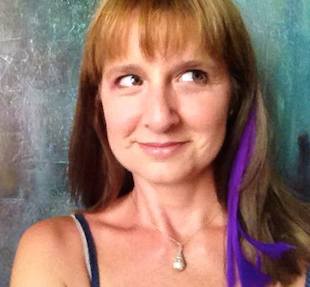 SJ Hodges is an eleven time published writer who completed her MFA in Dramatic Writing at NYU's Tisch School of the Arts. She's received a MacDowell Colony residency, a Jerome Fellowship, an NEA grant, a MN State Arts Board Career Opportunity Grant, a WV State Arts Grant and The Pilgrim Project Grant and was a Fulbright nominee as well as a CTG Sherwood finalist. She was most recently named a winner of the 2013 Humanitas New Voices in TV Award.
She won the 2008 LA Weekly Annual Theatre Award for Playwriting for How Cissy Grew. HCG also received readings at FestivALL 2009, WV and at The New Group, NY. The play that launched her career, Old Woman Flying, debuted at The O'Neill Playwright's Conference, won the Norfolk Southern Foundation New Play Contest and went on to production at Mill Mountain Theatre. She's received three commissions for TYA plays, all of which have moved from production to publication with One Girl Drummer debuting in New York at City Lights Theatre. Her new play TAR was a finalist for the MTC/Sloan Commission, the JAW Festival and received readings at ACT and MTC.
In addition, SJ worked as a celebrity interviewer for Interview magazine and wrote for A&E's popular Biography series. Her first novel, Party Favors, a roman a clef co-authored with Nicole Sexton was published by Lyons Press. The movie rights were purchased by Entendre Films with SJ attached as screenwriter. Her second book, a memoir co-authored with Deborah Strobin and Ilie Wacs is entitled An Uncommon Journey. It was purchased by Barricade Books. Her third book, a memoir co-authored with Animal Planet's "Pit Boss" Shorty Rossi was purchased by Random House. It hit #36 on Amazon and went into its 3rd printing six weeks after its release date. As an editor, SJ has worked on books published by Vanguard Press, Perseus Book Group and St. Martin's Press.