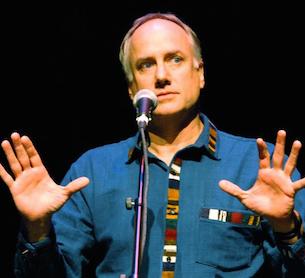 "Storyteller David Novak is an on-stage wizard, spinning his tales with wild creativity, intelligence, and wit." Rapid River Magazine. Highly prized for his ability to use his voice, facial expressions and body to bring ancient tales, classic myths, and original stories to life and enthrall audiences of all ages, David Novak is in demand for his school presentations, keynotes, workshops and coaching sessions. Smithsonian Magazine describes him as "a gifted teller who enhances his stories with a bag of tricks." Novak is an award-winning storyteller, author and actor, performing on the main stage at the nation's top storytelling festivals and as a featured storyteller at the prestigious National Storytelling Festival. Audiences from Hawaii to New York, and around the world find his style captivating.
Sought after for his talented delivery, Novak's CDs – Sterling, More Rhyme than Reason, Itsy Bitsy Spider's Heroic Climb, and The Cookie Girl allow the listener to picture the story through the sounds of his voice. A noted author, Novak's picture books include, The Little Ant, Johnny Appleseed and the Bears, and A Letter from Dad.
A recipient of the Oscar of the storytelling world, the Circle of Excellence Award from the National Storytelling Network and as a Master Storyteller for the Disney Institute Novak is a master of all storytelling genres bringing hundreds of stories to life. Whether performing at the National Storytelling Festival before thousands or in front of a small group of wide-eyed children, audiences savor each sentence and anxiously anticipate the next. He immerses himself so completely in a story and embodies each character. His love of telling is inescapable.